For a century, now, children have enjoyed reading, and being read to, the books about Peter Rabbit, Reddy Fox, Grandfather Frog, and the other "lesser folk of fur and feathers" that Thornton Burgess created in his "Mother West Wind" and "The Adventures of..." books. Their adventures in the Smiling Pool, the Old Briar Patch, the Green Meadow, and the Green Forest have delighted both parents and children with their timeless gentle lessons about nature, the environment, and the animals that inhabit the world around us.
One thing I've noticed in almost all the old "Mother West Wind" and "Bedtime Story-books" I've found in used bookstores was how many of them had been decorated with crayons and colored pencils by their young owners. Unfortunately, the wonderful George Kerr and Harrison Cady illustrations in these books are always small, and there aren't that many in a single book. Hence, this free, downloadable book that puts 16 of these delightful drawings into a larger format that fills a normal 8.5-inch by 11-inch sheet of paper, a low-resolution sample of which is shown below (the printed paper copy looks much better).
This coloring book is a promotional work from Flying Chipmunk Publishing and is available for free distribution in hardcopy as long as each page is distributed intact, unaltered from its original form, and includes the copyright, web location, and book name and ISBN statements. Interested parties may link to this web page here at www.FlyingChipmunkPublishing.com, but please do not put this file up on other servers, or redistribute in any other electronic form, as its intent is to invite people to the Flying Chipmunk Publishing website and advertise the books that we sell.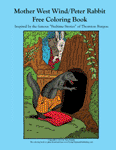 Mother West Wind/Peter Rabbit Free Downloadable Coloring Book
Editing and format Copyright © 2010 by Terry Kepner.
Illustrations have been altered to facilitate their use as coloring images.
Book is 20 pages in length
16 full-page illustrations suitable for coloring are included.
PDF file size is 1.2 MBytes, and requires PDF version 1.6 (Acrobat 6.x)
Clicking on the link should open a window and display the PDF book, which you can then save to your computer's hard drive. If the window doesn't open, right-click on the link and choose "Save as" or "Save link target as" to save the file to your computer.
Please Help Fight Internet Piracy!
Scanning and uploading this novel to the internet without the editor's permission is not an act of flattery. It is an act of theft. It not only disrespects the editor; it violates the editor's copyright and literally takes money from the editor's paycheck by distributing copies of this book for which the editor get no payment (this coloring book's purpose is to try to invite interested people to our website to see the books we publish).